SK CYLINDER CO.,LTD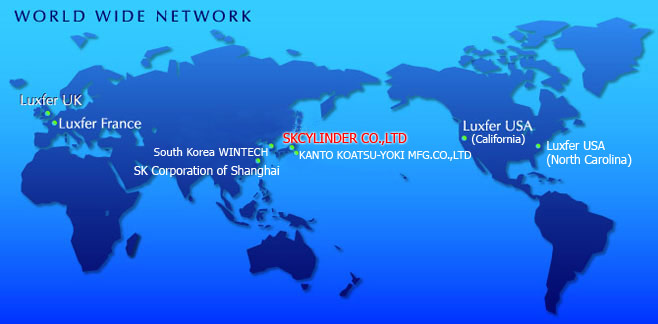 Outline of the company
Company name
SK CYLINDER CO.,LTD.
Location
Tokyo Head office  : 3-7-1 Kanda jinbo-cho,Chiyoda-ku,Tokyo,Japan
Branch office     : Sendai,Maebashi,Nagoya,Osaka,Fukuoka
Establishment
September,1966
Capital stock
20,000,000 yen
Representative
Kazuyuki Yabata
Sales
15,500,000,000 yen (Including sales of group companies)
Employees
210 (Including employees of group companies)
History of the company
September,1966
Established KANTO CYLINDER CO.,LTD.
Tokyo head office
Osaka branch office
Maebashi branch office
April,1980
Established sendai branch office
July,2000
Changed name from KANTO CYLINDER CORPORATION to SK CYLINDER CORPORATION
Established fukuoka branch office
April,2001
Established Nagoya branch office
October,2003
Acquired ISO9001 Approval
October,2006
Started sales of aluminum and FRP cylinder manufactured by Luxfer.
November,2006
Started manufacturing of the seamless cylinder at Shanghai factory.