Custom-made Cylinders

Providing exclusive designs for high-pressure gas cylinders with optimum specifications for various applications as well as manufacturing special gas cylinders to meet your needs.
We offer the highest quality gas cylinders for mass production and prototype production using integrated domestic output.
SK CYLINDER designs high-pressure gas cylinders exclusively for each application and gas characteristics, enabling the manufacture of cylinders with the optimum specifications. For example, in addition to specifying the surface roughness of the internal polishing, we can also provide special specifications to meet your orders, such as specially processed high performance gas cylinders, capacities and sizes that cannot be accommodated by off-the-shelf products, and shapes such as the number of valves and mounting positions.
We use stainless steel, steel, aluminum alloy, FRP, and special materials for gas cylinders, and also can freely design the diameter and length of the cylinder according to the internal space of the equipment. From the manufacture of various gas cylinder to mass production and prototype production, we offer integrated production at our domestic factories.
Providing gas cylinders with various applications, materials, and structures from welded cylinders to seamless cylinders and large bulk storage tanks
We have dedicated production lines for various gas cylinders, from high-precision welded cylinders to highly pressure-resistant seamless cylinders and large bulk storage tanks. Our advanced technologies enable the manufacture of gas cylinders with various applications, materials, and structures.
A variety of specifications can be accommodated by order.
Mirror
finishing

Enabling the manufacture of highly mirror-finished stainless steel cylinders
Lightweight design

Realizing a more lightweight design through material review and thinning
High-pressure resistance

Increasing high-pressure resistance using seamless cylinders
Various capacities

Supporting a wide range of capacities from small to large, which are not available in standard products
Various materials

Supporting a variety of materials such as steel, stainless steel, and aluminum
SK CYLINDER is capable of manufacturing mirror-finished stainless steel cylinders with advanced polishing technology. Furthermore, the weight has been further reduced by reviewing the material and reducing the thickness, and the use of a seamless cylinder makes it possible to achieve high pressure resistance. Of course, it is possible to manufacture a variety of sizes from small to large that are not available as standard products, and we can respond to all types of materials while taking into consideration the characteristics, size, and cost of the gas.
We will meet the following requests.
Need a high-pressure gas cylinder with a special material (such as stainless steel, aluminum, and FRP) for the main body.
Increase or decrease the capacity of a standard high-pressure gas cylinder.
Change the size, diameter, or height of a high-pressure gas cylinder according to the equipment to be installed.
Need a high-pressure gas cylinder with specific inner surface roughness to manufacture precision parts for semiconductors.
Need a gas cylinder complying with regulations and standards of overseas countries such as Korea and China.
We support you from the design and development of various types of gas cylinders based on detailed interviews.
First, we conduct a detailed interview with the customer to determine the best specifications for the application and budget, and then determine the material, structure, dimensions, and accessory equipment. Even at the conceptual stage before design, we can support you from the design and development of gas cylinders for various plants based on detailed discussions with you.

We manufacture for all kinds of applications, including new types of gases that have never been used as well as special gases.
Our design engineers listen directly to the customer's requirements. Based on our expertise and many years of experience, we can build new production lines in factories and respond to new types of gases that have never been used before as well as special gases to custom make the best gas cylinders to meet customer needs.
Product manufacturing process
Interview
Design drawing
Quotation
Specification decision
Contract and manufacturing
We listen to your requests for gas types, applications, capacity, dimensions, and standards. Specifications for inner surface finishing and painting are determined, and design drawings are prepared.
After presenting a written quotation and listening to more detailed requests, we determine the final specifications. After you agree on the price and delivery date, we will sign the contract and then manufacture the product.
We can also produce small quantities from just a few products.
At SK CYLINDER, we can produce small quantities from just a few products or prototypes. We can support the development and manufacture of gas cylinders to meet your requirements. Also, we have a thorough quality control system for mass production.
We will develop high-performance gas cylinders that can be used for various new types of gases.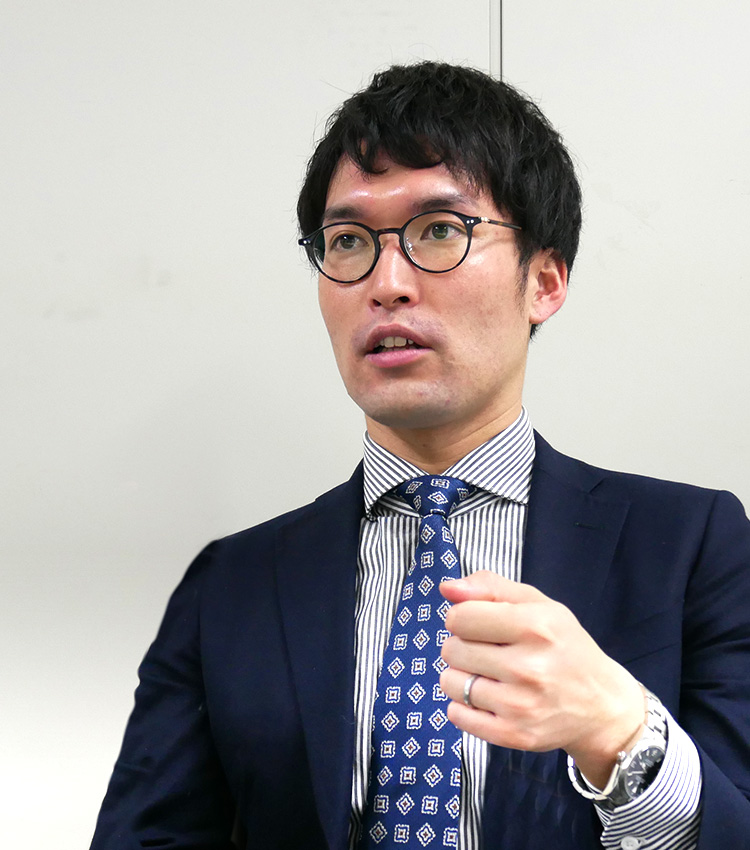 Our sophisticated inner surface polishing and welding technologies enable the order-based manufacturing of high-performance gas cylinders.
SK CYLINDER can meet the needs of new types of gases developed by companies manufacturing semiconductor material gases and other industrial gases, when existing gas cylinders are found to have insufficient corrosion resistance, or when a lighter body material is required for portability.
For example, we can select the optimum grade for polishing the inner surface of gas cylinders from low to high surface roughness, and we can also respond to requests for high-precision finishes, such as the smoothness of welded parts.
Of course, the optimum size can be specified according to the specifications of the equipment for setting the gas cylinder so that the most efficient operation can be realized, taking into account the amount of gas used and the capacity of the cylinder.
Please feel free to contact us if you have any questions or concerns about various new types of gas cylinders.
Professional gas cylinder development personnel are available to assist you.
Our gas cylinder developers, who have a great deal of experience in delivering gas cylinders, conduct detailed interviews on applications, types of fluids, temperatures, and pressures. Our experienced design and development engineers will create a study drawing and propose the most suitable gas cylinder with an exclusive design.
* When you place an order, we will confirm the specifications and provide you with a delivery date and a quotation.


For companies that are thinking of ordering products
We have achieved high airtightness and high-pressure resistance with our world's top-level mirror polishing technology with Rmax from 1 to 3s as well as high-precision welding technology.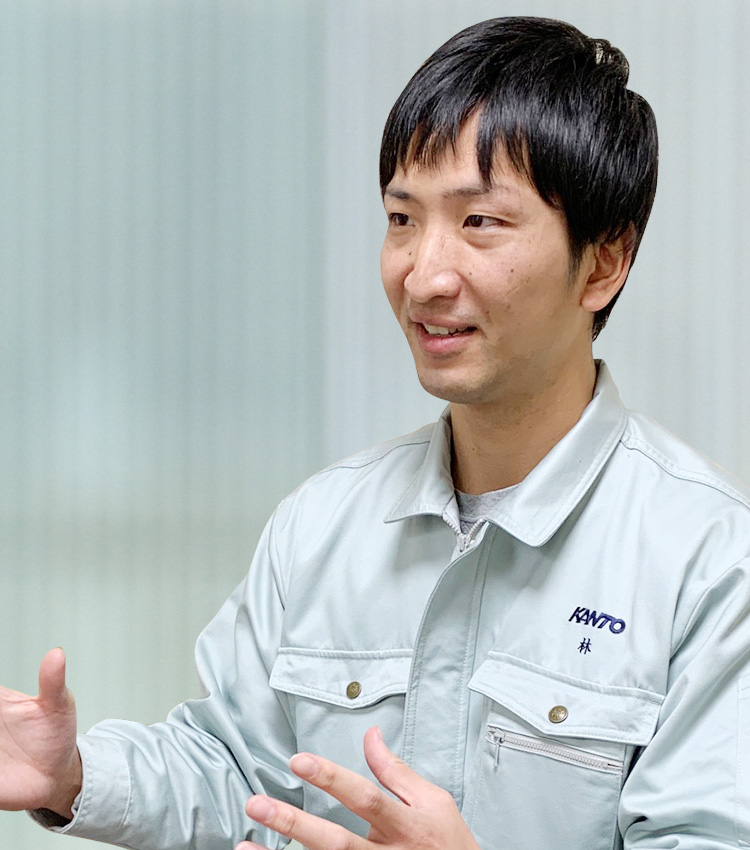 We, SK CYLINDER are one of the leading high-pressure gas cylinder manufacturers in Japan, capable of producing both welded and seamless cylinders. Therefore, we can select the most suitable structure to design and manufacture simply by listening to the customer's requirements, the type of gas, the conditions of use, and the budget.
For example, welded cylinders are available in a variety of sizes, from small 1-liter cylinders to large 7000-liter cylinders, and seamless cylinders from 1 liter to 20 liters.
Operating pressure is available from low pressure to 20Mpa class, and the polishing accuracy of the inner surface of the cylinder can be specified. We can handle all kinds of high-purity gases by performing shotblasting, barrel polishing, and compound electrolytic polishing. We also have experience in materials such as steel, stainless steel, aluminum, FRP, and special materials. All of these materials are procured from high quality materials in Japan and manufactured consistently in our domestic factories to ensure strict quality control.
Mirror finish with Rmax from 1 to 3s makes it possible to handle the latest semiconductor gases.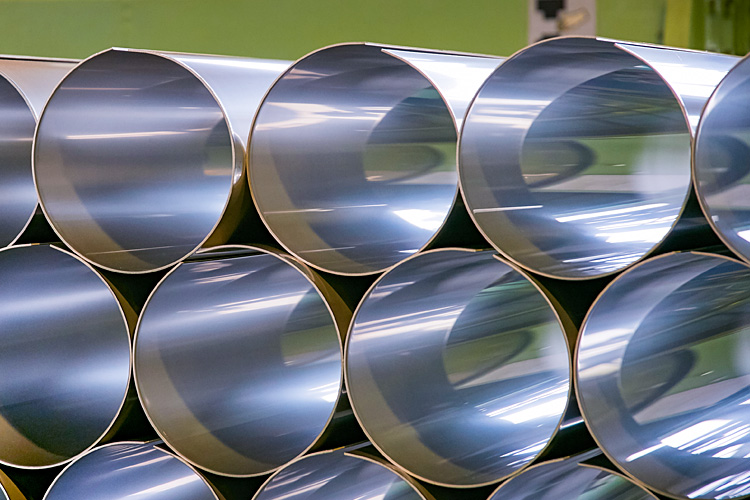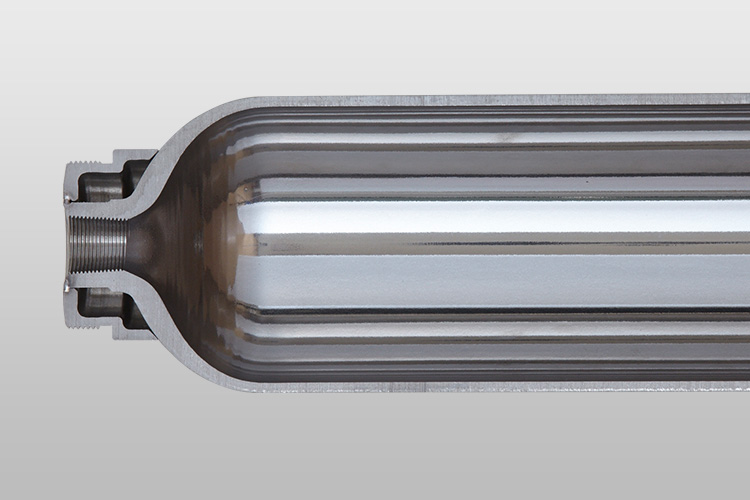 In stainless steel cylinders for semiconductor gases, it is necessary to polish the inner surface of the cylinder as smooth as a mirror to prevent contamination (impurities) from getting mixed in. SK CYLINDER has achieved the world's top-class mirror polishing with Rmax from 1 to 3s and has many years of experience in delivery to major chemical manufacturers handling semiconductor gases.
Conducting precision polishing for high performance that does not appear in the specifications
For inner surface polishing for semiconductor gas cylinders, the surface roughness of Rmax from 1 to 3s is said to be one of the highest in the world. According to a major chemical manufacturer, "Even for high-pressure gas cylinders with the same surface roughness, gas tests show a difference in performance between manufacturers," and "SK Cylinder's products have been used because our in-house tests have shown excellent results."
I think it can be said that this kind of detailed and precise polishing gave rise to a high level of performance that is not shown in the specifications.
High precision welding is possible even on thin aluminum with a minimum thickness of 1.5 mm, which is difficult to weld.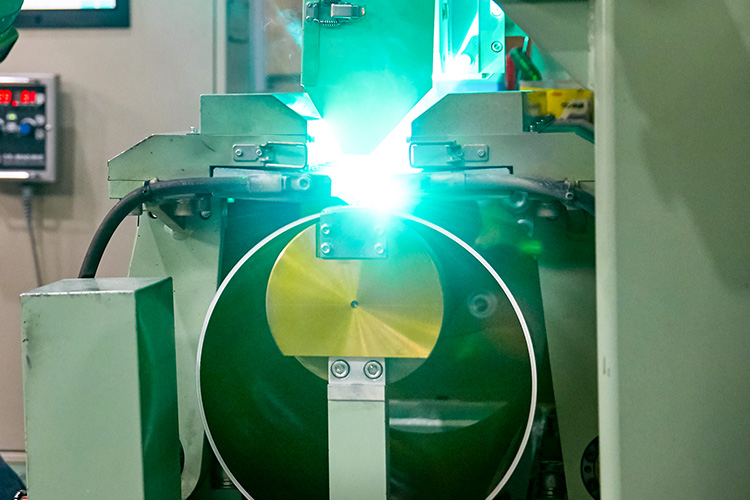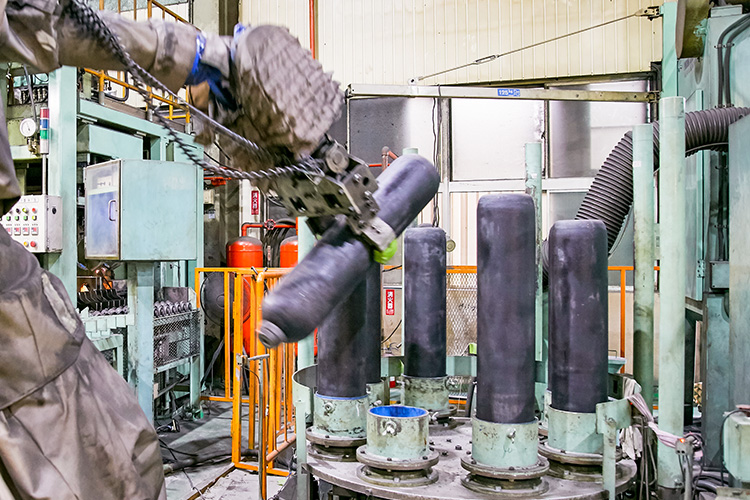 At SK CYLINDER, we adopt the best welding methods such as MAG, MIG, and TIG according to the materials and applications of gas cylinders, and have accumulated technologies to achieve higher airtightness and pressure resistance. We have established a production system capable of high-precision welding of aluminum cylinders with a minimum thickness of 1.5 mm, which is technically challenging. Especially for stainless steel welded cylinders, the smooth bead shape of the backwash, where accuracy was thoroughly pursued, is proof of our advanced welding technology.
Commitment to high quality from the customer's perspective
Another special feature of our gas cylinders is that they have to be degreased twice. For beverage and medical cylinders, one degreasing process is usually sufficient, but at SK CYLINDER, we carefully degrease them twice. The reason for this is that after the surface is painted, a unique degreasing process is carried out to thoroughly remove the oil that causes odors. We consider that ensuring the comfortable use by our end users is one of our commitments.
In addition to legal inspections, we also perform strict inspections using X-ray transmission.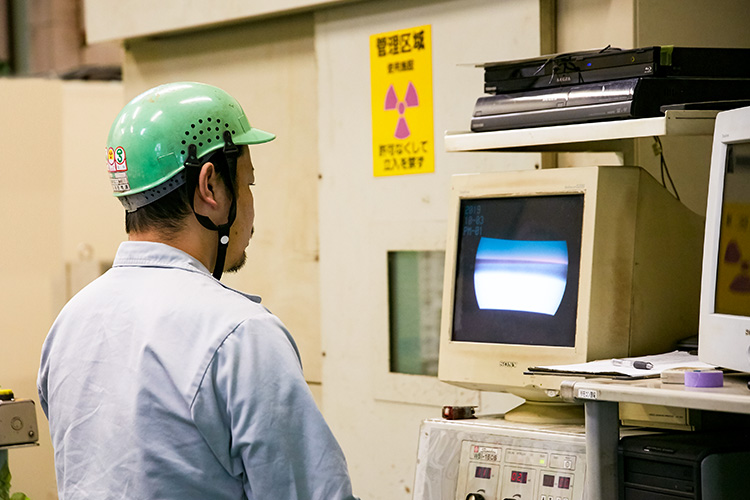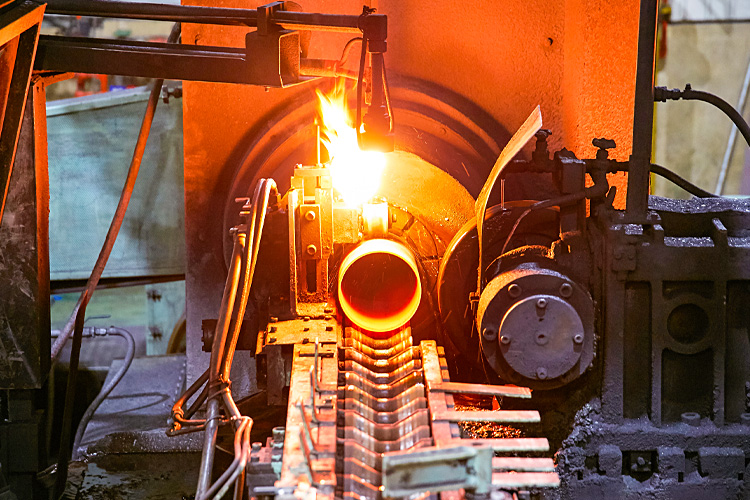 We conduct not only pressure and airtightness tests as required by the High Pressure Gas Safety Law but also in-house voluntary inspections to ensure that there is no welding nonconformity. In particular, for stainless steel welded cylinders, we carry out X-ray inspection on all welded lines of products. We have obtained JCSS calibration certification for various measuring instruments, enabling us to carry out various accurate material tests. We also conduct penetration testing (PT) and other tests to ensure that only the highest quality products are delivered to our customers.
Numerous achievements in research and development, from the private sector to the public
Thanks to the excellent reputation of our development technologies, we have been asked to participate in various new development projects from private companies and public institutions. For example, the "Ultra Clean Cylinder" developed in collaboration with Tohoku University is one such example, which succeeded in thoroughly eliminating impurities by applying precise internal polishing to the stainless steel cylinder. In recent years, we have supported a wide range of development projects, including fuel cell vehicles (FCVs) and ultra-lightweight high-pressure gas cylinders for a public institution.
We deliver the highest quality special processed cylinders to meet your needs.
SK CYLINDER products meet national standards in many countries around the world, including Korea and China, where semiconductor production is thriving, so that they can be used safely and securely in all countries.
We can support you from the conceptual stage to design drawing, and we can realize the total process from prototyping to mass production, even if you ask, "Can you make such a cylinder?" We make full use of the gas cylinder manufacturing technology that we have cultivated over many years to deliver the highest quality special processed cylinders that our customers require.

Contact us by phone

+81-3-6272-3501

9:00 to 17:00 on weekdays (except Saturdays, Sundays, and national holidays)
Please call us at this number to discuss various gas cylinders and to place your order. Please feel free to contact us anytime as our staff will always politely respond to you.
* Please understand that it may take some time to reply depending on the inquiry.
Contact us by email
To contact us by email, please fill out the form below and send it to us. Our staff in charge will respond to you as quickly as possible.